Mighty Size with Uncompromising Performance
ECS will present the whole series of LIVA mini PC that designed for various smart solutions. The Mini PC Family including pocket-size – Q series, energy saving – Z series, industrial-grade – M series for different applications, such as smart retail, transportation, hotels and hospital for digital signage, smart conferencing for business intelligent, edge computing for AI solutions and home entertainment for long-distance working and learning. ECS will reveal the latest world's smallest 15W AMD Ryzen™️ mini PC –LIVA Q3 Plus. LIVA Q3 Plus is smaller than a mouse but features with high performance AMD Ryzen™️ Embedded V1605B and R1505G CPU, embedded with cooling fan to keep your system stay cool and be more reliable, it also supports dual display through its HDMI/ mini DisplayPort. Giving you the flexibility to expand the desktop workspace and multitask on two displays without any limitation. ECS AiO PC features up to Intel®️ 10th Generation Core i processor and DDR4-2666MHz memory for uncompromising performance. The space-saving and streamlined design fits perfectly for any business application such as government and public institutions, healthcare, bank and hotel counter that require computers remain in the office all the times and also ideal for home entertainment.
For Configuration & Technical Assistance Contact:
LIVA Q3 Plus
World's Smallest 15W Pocket-sized Mini PC
Smaller than a mouse, LIVA Q3 Plus features the AMD Ryzen Embedded V1605B APU. The V1605B is a 4-core/8-thread SoC with 15W thermal design power (TDP) and incredible performance that sets a new standard in processing power for next-generation embedded designs. The internal GPU can offer up to 47% performance improvement compared to competitors' product.
Better CPU & GPU Performance Compared to i5-7200U 15W
Stay Cool and Reliable
Micro SD Slot for Extend Storage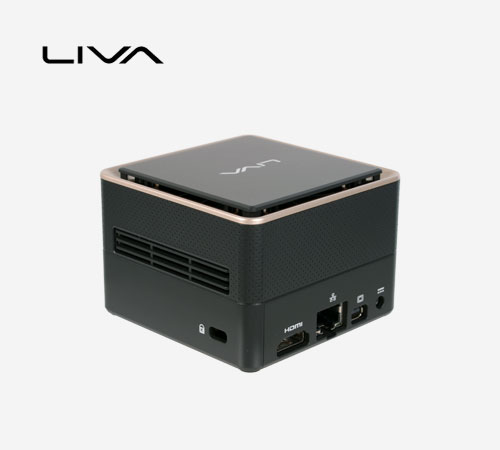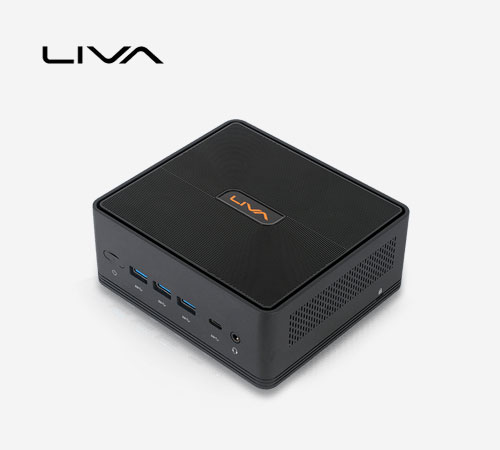 LIVA Z2
Palm-Size PC
Smaller than a lunchbox and less volume than a large soda can, it is the smallest mini PC in its kind. With 0.8 liter case that still provides all the elements of a desktop-worthy PC.
Quiet Operation with Fanless Design
Energy Efficient for Power Saving
For All Your Devices with Type-C Connect
Easily connect to a wide variety of devices
Ultra-compact PC with dual-storage design
The Best 4K Visuals with HDMI 2.0
Easy to Upgrade
LIVA Z3 Plus
Intel® Comet Lake-U 10th Gen Intel® Core™ processors feature evolutionary enhancement on the performance and up to 6 cores allowing you to do daily computing task smoothly and more efficiently. 802.11ax MU-MIMO provides higher connection speeds up to 10GBps, greater efficiency of data transmission to stream high quality movies and YouTube videos among multiple devices simultaneously.
Lightning Speed
Blazing Connectivity
Get More Done with Alexa
Vibrant Visuals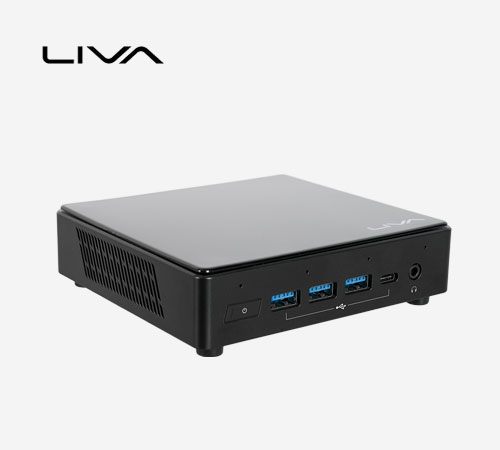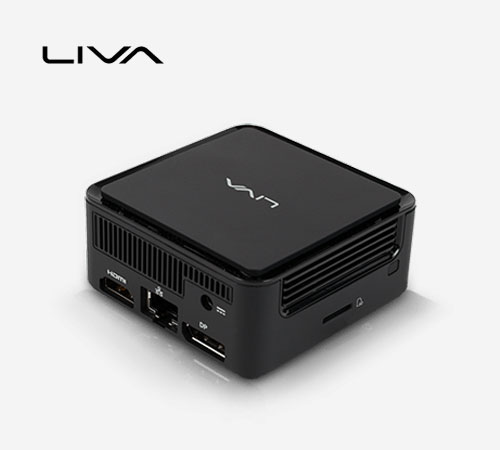 LIVA Q1D
Expand your desktop workspace with dual display with up to 4K resolution, giving you the ability to expand their desktop workspace and multitask on two displays without the need for an additional VGA card. Smaller than a mouse, it's easy to put in your pocket and let the computer is everywhere. LIVA Q1D is the Mini PC that you'll never see because it's just so small you won't believe it's a PC.
Tiny in Size, Big in Performance
Stay Cool and Reliable
The Best 4K Visual Experience
Micro SD Slot for Extend Storage